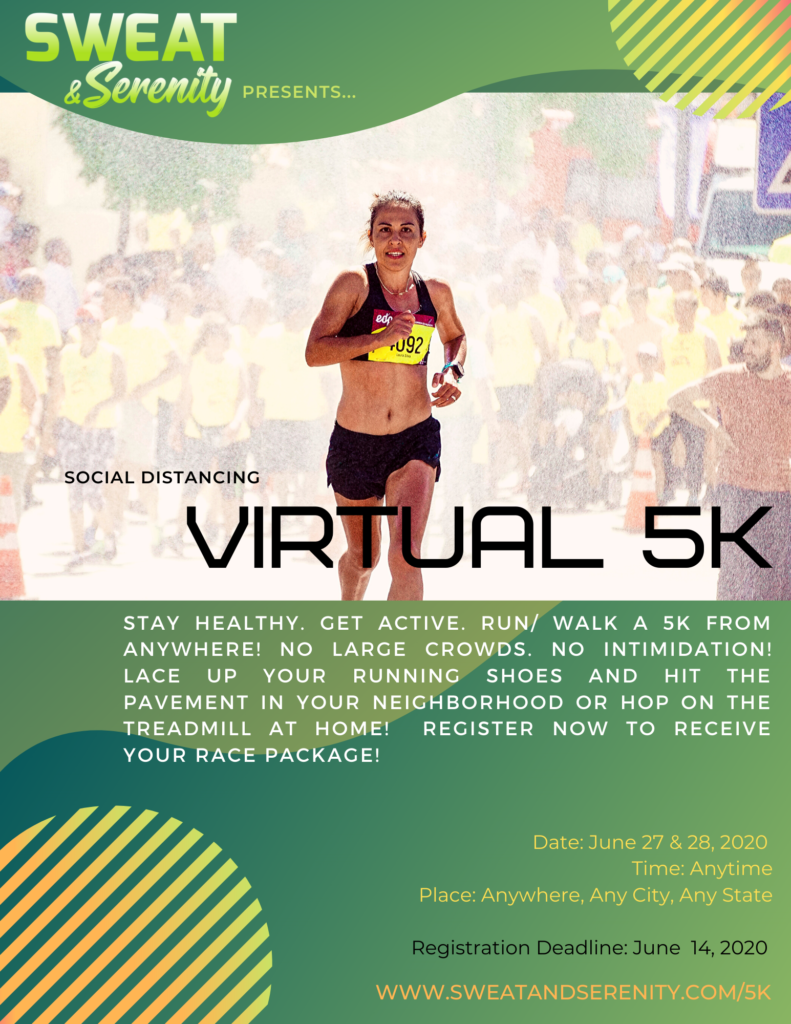 What is the Sweat & Serenity Virtual 5K?
A virtual 5K is a 3.2 mile race that you complete on your own time at your own pace. This can be completed in the gym, at home or around your neighborhood. Don't forget to post a photo in your race t-shirt and medal using the hashtag #SweatSerenity5K
How do I sign up?
Click the image to follow the link to the event page. Complete the form and enter your information to receive your race package and online training program.
What is included?
With your registration you will receive a race package in the mail including a 'virtual 5K' t-shirt and race medal. You will also receive an eight week online running program to help you prepare for the run or increase your race time if you are an avid runner.
How do I train for a 5K?
Once you register for the race you will receive an online training program to prepare you for the race. The program is eight weeks and will be updated weekly for accountability. It will include running approximately 3x per week with rest days in between. This program is designed to condition your body for running and increase your speed with progress. It is all done at your own pace!
What if I'm not a runner?
There is no pressure to run this race you can walk your 5K as well. The goal is to complete it, stay consistent in your training and finish strong!
When do I run?
Once you register online you will complete your 5K run on Saturday June 27th or Sunday June 28th.
How do I submit run details?
Use an app such as Nike Run Club, Map My Run or Strava to track your distance and pace. Take a screenshot of your completed run to be submitted to the leaderboard.